Best Cross-Country Ski Resort in Western New York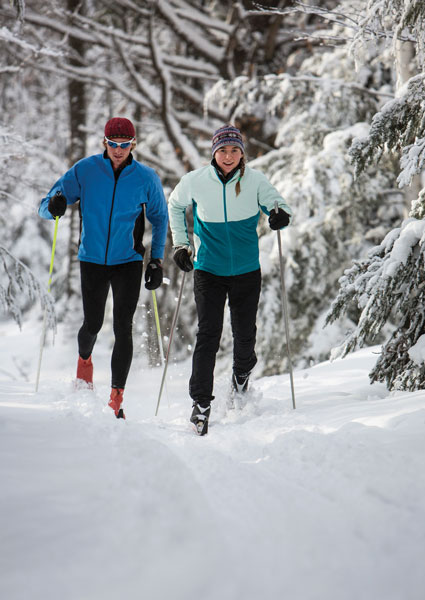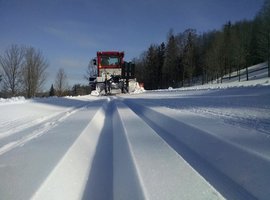 Byrncliff was voted "Best Cross-Country Skiing 2008" in Western New York by Buffalo Spree Magazine! Just 35 minutes South of Buffalo and one hour from Rochester NY
Byrncliff is WNY's premier Cross-Country Ski Center with:
over 20 kilometers (12 miles) of groomed marked ski trails making it ideal for first timers (lessons available upon request in advance) or avid cross country skiers

night skiing for winter fun during the week and weekend nights: a magic experience!

cross country ski rentals, boots, poles equipment in our ski shop (first come first served, we do not take reservations)
Unlike other parks, Bynrcliff has a state of the art Pisten Bully groomer that provides the best ski conditions possible for both the traditional track set (classic cross country skiing) or the skate skiing enthusiast.
Groups are welcome! We have banquet rooms available
"The trails at Byrncliff were well groomed. We had a great time and can't wait to come back and do it again!" - Frank, Alden
Cross Country Ski Trail Fees
One Day
Any Day weekday
or weekend
Late Day
after 2 30 pm
Season Pass before 12/06
Season Pass after 12/06
Adults
$20
$16
$148
$185
Seniors 65+ / Youth 13-17
$17
$14
$105.60
$132
Children 6-12
$12
$10
$81.60
$102
Children 5 and Under
Free
Free
Free
Free
Family of 4
Each additional person
Lodge building limited occupancy due to Covid 19.
PLEASE FILL OUT SPECIFIC FORM AHEAD OF TIME (PRIOR TO COMING TO BYRNCLIFF) TO MAKE IT EASIER FOR EVERYONE - THANK YOU!
For those who buy a DAY PASS and bring in their OWN EQUIPMENT - no need of rentals

For those who buy a DAY PASS AND RENT EQUIPMENT
Season Pass Application Form - Click to download SeasonPassApplication 20-21
Rental Equipment Fees
Rental Rates
per day
or evening
Adults
$20
Seniors 65+ / Youth 13-17
$16
Children 6-12
$12
Children 5 and Under
$12
All prices are per person. Children under 12 must be accompanied by an adult. Helmets recommended for children.
PLEASE NOTE: we do not take reservations for skiing, rental equipment or tubes. It is FIRST COME FIRST SERVE.
Ski Trail Hours
Subject to change based on conditions - please check "Trail Conditions"
Sun - Wed:   9:00 am - 5:00 pm
Thurs - Sat:  9:00 am - 9 pm - Night Skiing Trails Thurs - Saturday Only
Learn to Ski
by Appointment
Lesson Package: 1 hour includes trail fee
Individual:     $60
Group (2-4): $40 per person
SKI Plus Dinner: Only $35!
Better than buying a Ski Trail Ticket?  Consider a Ski Plus Dinner for only $35! After Ski is great at Byrncliff!!


Questions? Please call us at (585) 535-7300 or email at [email protected]