The white stuff is here!
Snowshoeing is a great sport for year-round hikers. If you're not into skiing, but love getting in touch with the outdoors in the winter, then this is the sport for you! Snowshoes can slip on right over your snowboots and make it easier for you to walk/hike in the snow.
Snowshoers of all ages can feel free to explore the 12 miles of trails at Byrncliff. Pack a water bottle and you're ready to traverse the woods. Stay close to the Byrncliff lodge and restaurant or head out to the hills ... whichever you choose, you set the pace.
Trails at Night
Read on below for hours.
Sledding hours are 9am until dusk everyday
In the event of little to no snow, the trails will be closed. Please call 585-535-7300 if conditions are questionable or Click Here for our Snow Report.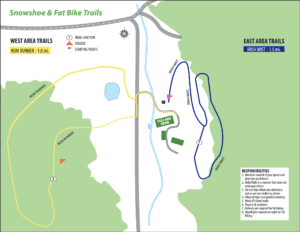 All prices are per person. Children under 12 must be accompanied by an adult. Helmets recommended for children.
All-Inclusive Packages: