Golf and Dinner Specials

GOLF + DINNER SPECIAL from $69!
Pre-Pay at Check-In for a Special Price of Golf + Dinner!
18 Holes Riding + Choice from the Menu Below
Why not treat yourself to both Golf and Dinner??
Byrncliff Restaurant offers a generous Menu with a variety of Entrees – inclusive of choice of soup or salad, and dinner rolls. Dinners (except pasta) include choice of potato and vegetable du jour.
Call (585) 535-7300 to reserve!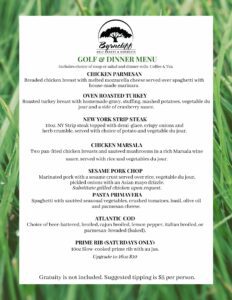 Prices are per person and INCLUDE Tax. Gratuity is not included.
Note that this offer cannot be combined with a hotel stay, packages, banquets, Simply Certificates or any other discount.
For groups over 16 people, a service charge of $4 will be added.
GOLF & DINNER SPECIAL  RATES – GOLF + DINNER SPECIAL
Weekdays: $74
Weekdays after 1 pm / Seniors: $69
Weekend & Holidays: $84
Weekend & Holidays after 2 pm: $77