Byrncliff Bar & Restaurant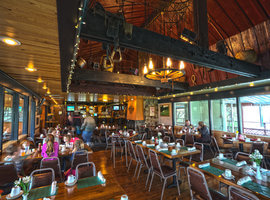 The Byrncliff Bar and Restaurant, often referred to as "The Cliff", sits in the heart of the resort.  Open year around, it has a casual yet refined atmosphere that will fit your needs to a tee.
Day or night, indoor or outdoor dining, light fare or delicious dinners, there's something for everyone on the menu.
You may know that Western New York is famous for its hometown signature foods.  Byrncliff Bar and Restaurant really hits these Western New York specialties on the mark! Alex is our Chef.  Originally from the small town of Brant, NY, Alex worked under some of the greatest chefs in the country during his career. He attended the Niagara Falls Culinary Institute and also completed an apprenticeship at The Vintage in Indian Wells, CA. Alex has also worked The Greenbrier in White Sulphur Springs, WV and Oak Hill Country Club in Rochester, NY. Very comfortable in the kitchen, Alex's cooking has been groomed by golf culture.
Take a scenic drive to Byrncliff for your next meal and special occasion. You'll love it!
 OUR DINNER MENU
Download a copy of our Menus by clicking below

KIDS' MENU
Make reservations by calling (585) 535-7300 - For restaurant hours, look at section "about us" and see hours of operations