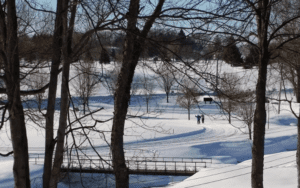 Byrncliff Winter Activities
Best of WNY
Golf Resort and Banquets is a favorite for cross-country skiers, snow-shoers, and snowmobile riders when the snow flies in Western NY. Nestled in the rolling hills of Wyoming County, Byrncliff attracts people from the Greater Buffalo/Niagara Region, Rochester, out of state and even Canada. You can enjoy the picturesque winter scenery, delicious fare from Byrncliff's full-service restaurant, and the convenience of cozy on-site lodging.
Byrncliff was voted "Best Cross-Country Skiing 2008" in Western New York by Buffalo Spree Magazine!
Ski Trail
Skiers and snow-shoers can enjoy the pristine groomed and lighted trails at Byrncliff, with 13 different wooded and open trails sprawling over 12 miles (25 kilometers). The trails are designed to keep novice and advanced skiers entertained. Take advantage of Byrncliff's "Ski & Stay" packages and special weekday discounts on trial fees.
Byrncliff is a central location for snowmobile riders in Western New York. Situated on a snowmobile thoroughfare in Wyoming County, Byrncliff provides easy trail access along with trailer parking.
Come out and visit the beautiful scenery and rolling hills of Wyoming County, and experience what winter is all about!
Are you wondering if we have snow? Link to Live Webcam - Click on Varysburg, NY
to find out! Then check out our Snow Report !
Sledding Hill
Candyland Sledding Hill
Come out and enjoy our sledding hill located at Byrncliff!
Sledding Rates
Weekday Weekend
Day Pass $5.00 $7.00
Children 4-12 $3.00 $5.00
3 & under FREE FREE
Tube Rental $10.00 $10.00
Check in and out at the ski shop!
Byrncliff Safety Rules and Guidelines for Use of the Sled Hill
Hours of operation are from 9am until dusk - No sledding after dark
All participants must register at the Byrncliff Ski Shop before sledding
Byrncliff Sled Hill is not supervised - use at your own risk
Before sledding down the hill, make sure your path is clear of obstacles and other people
Move quickly off to the side at the end of a run to avoid collisions with others coming down the hill
Do not tie sleds together or stand while sledding
Sleds with steel runners are prohibited
Children 12 years of age and younger must be accompanied by a responsible adult
Children must be 36" or taller to use the sled hill
It is recommended that helmets are always worn to help prevent injuries
Sledding is only permitted on the designated Byrncliff Hill runs
The building of ramps, bumps, moguls or jumps with snow, dirt, wood, metal or any other substance is prohibited
No pets, alcoholic beverages, loud music, horseplay or profanity