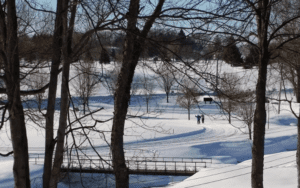 Byrncliff Cross-Country Skiing
Byrncliff was voted "Best Cross Country Skiing 2008" in Western New York by Buffalo Spree Magazine!
Byrncliff Resort & Conference Center is WNY's premier Cross-Country Skiing Center with over 20 kilometers (12 miles) of groomed marked ski trails. Byrncliff also features the most extensive night skiing for cross-country skiiers in New York State with 8 lighted kilometers (5 miles) for winter fun during the week and weekend nights.
A state of the art Pisten Bully groomer provides the best ski conditions possible for both the skating and traditional track set enthusiast. First-time skiiers are also encouraged to come on over and check it out. Call to set up a lesson one-on-one with our experienced instuctors.
"The trails at Byrncliff were well groomed. We had a great time and can't wait to come back and do it again!" - Frank, Alden
Read on below for hours, rates, and specials or click here to view and print Ski/Snowshoe rates.
Winter 2016/2017
Trail Hours
Monday - Wednesday: 9am-5pm
Thursday: 9am - 9pm
Friday & Saturday: 9am - 10pm
Sunday: 9am-6pm
Sledding hours are 9am until dusk everyday
In the event of little to no snow, the trails will be closed. Please call 585-535-7300 if conditions are questionable or Click Here for our Snow Report.
All prices are per person. Children under 12 must be accompanied by an adult. Helmets recommended for children.